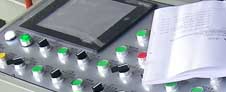 Name: BAISHENGYUAN
Tel: +86-136-2630-7530
Fax: +86-631-5921397
E-mail: info@baishengyuan.com.cn
Add: No.642-5# Qilu Avenue Weihai City Shandong China
Skype: WATERSURFACE0631
QQ: 917669496




Product name : Multi-Opening Hot Press Machine

Item : BY214X8/6-15
Details:
Hot Press

Modle BY214x8/6-15
Nominal pressure(KN): 6000 (500-1000 ton available)
Hot-press plate sizes(mm): 2700x1370x42 (thickness 52mm optional,if increase higher working pressure)
Opening have 70,100mm between two platens,or custom made.
Press platen number 16
Diameter of plunger case(mm): 2pc,dia 360; 1pc dia 200
Working stroke of plunge(mm): 1050
Working pressure(MPa): 25
Motor pressure(kw): 26
Closing speed(m/min): 4
Overall dimensions(mm): 5000x1446x5395
Weight(kg): 35000


---Suitable produce Plywood,Shuttering plywood,Film face panel boards.

---The stainless steel sheet or cushion pad according production choice.

---Press machine's loading and unlading system available.

---Solid steel press platens,under ganry grinding,gantry milling process.
Hot Press Mahcine BY214×8/8-15
Max working pressure 8000kN
Working platens number 16
Working pressure 26.3kgf/cm2
Press platen dimension size 700×1370×52mm
Daylight opening height 70mm
Hydraulic oil cylinders 6pc-dia 240mm and 2pcs-dia 150mm
Heating medium use thermal oil or steam
Installed motor power 15.75kW
Platen close and opening speed 50mm/s
Dimension size 5700×1370×6180mm

--------Number of dalight/openings from 2 to 20.
----------CNC machines parts and quality solid steel frame welding.
-----------More platen sizes on request,solid steel drillling,gantry milling process.

-----------Cylinder stroke depends on daylight number.
-----------Loading conveyor and accessory parts as optional.