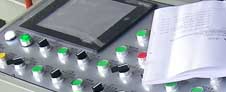 Name: BAISHENGYUAN
Tel: +86-136-2630-7530
Fax: +86-631-5921397
E-mail: info@baishengyuan.com.cn
Add: No.642-5# Qilu Avenue Weihai City Shandong China
Skype: WATERSURFACE0631
QQ: 917669496




Heavy duty press machines of us,according different modles,have
assembly gantry structure
mechanism, easy transport .
Use
high temperature resin hose, steel wire reinforced hose
, increse its long life cycle.
----Hydraulic station apparatus main assembly of international and domestic facmous brands, pipeline parts at the factory with a good, no on-site configuration.
----Provide the foundation construction drawings, cleaning, maintenance brought many conveniences, safety and low cost.
----Solid steel plate closed stable, faster, simple structure and low cost.
Press machine with good synchronization, smooth movements, simple structure,and reduce maintance cost.
Press Platen


Advantage:
Ability to customize;
Has items in stock;


More>>
Total: 6
Page: 1 / 1
First
←Previous
Next→
End