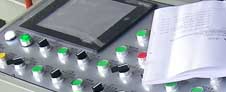 Name: BAISHENGYUAN
Tel: +86-136-2630-7530
Fax: +86-631-5921397
E-mail: info@baishengyuan.com.cn
Add: No.642-5# Qilu Avenue Weihai City Shandong China
Skype: WATERSURFACE0631
QQ: 917669496




Product name : Lamination Press Line

Item : BY
Details:
Short cycle lamination production lines are developed by SHANDONG BAISHENGYUAN with domestic and foreign advanced technology,press for following lamination size:4×8feet,4×9feet,6×8feet,6×9feet,7×9feet,4×16feet,6×16feet,7×18feet ..
-----Sets of short cycle lamination production lines have been exported to Asia and European market. Short cycle lamination lines are widely used in the overlaying for PB and MDF/HDF with paper and slice veneer especially popular with low pressure melamine impregnated paper.
------The finished boards are used in the field of furniture, room decoration, flooring and building. The whole line is controlled by PLC, carrier speed of loader & unloader is controlled by AC motor frequency inverter or servo motor.

Custom-made sizes are available.