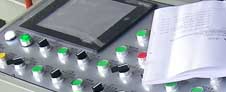 Name: BAISHENGYUAN
Tel: +86-136-2630-7530
Fax: +86-631-5921397
E-mail: info@baishengyuan.com.cn
Add: No.642-5# Qilu Avenue Weihai City Shandong China
Skype: WATERSURFACE0631
QQ: 917669496




Product name : Combined Veneer Rotary Lathe

Item : BQK1913/4,BQK1920/4
Details:
Shandong Baishengyuan cominbed rotary lathe
BQK1913/4; BQK1920/4; BQK1926/4
adopt CNC system control,rotary cutting parameters be friendly easy change,peeling blade angle can free adjust,peeing speed in linear 90m/min running,
powered roller bar
,
log charger&centering system as one whole part
of above machines,etc.
Spindle lathe and spindless lathe in one machine.
It is more and more welcome by market.
| | |
| --- | --- |
| Rotary cutting veneer speed 90m/min | Double roller driven power 7.5KW |
| Peeling log length 1000~1350mm (BQK1920/4 for 2100mm length) | Knife gap by servo motor power 3.7KW |
| Spindle dia.95mm | Swig charger by servo motor power 5.5KW |
| Max peeling log dia.400mm | Log centering by servo motor power 3KW |
| Mini peelng log dia. 40mm | Clamp arm by servo motor 3KW |
| Veneer peeling thickness 0.35-3mm | Log feed power one 1.5KW |
| Spindle rotation speed 0—200rpm | Log feed power two 4KW |
| Spindle motor power 15KW | Hydraulic unit power 4KW |
| Single roller power 15KW | Total motor power 77.6KW |
| Double roller power 8KW | Weight 22T |
| Knife carriage driven by servo motor 7.5KW | Dimension size 12580×5760×3350mm |
Working video reference link
https://www.facebook.com/photo.php?v=10201003191832522&l=2612008730540128737