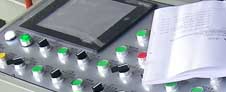 Name: BAISHENGYUAN
Tel: +86-136-2630-7530
Fax: +86-631-5921397
E-mail: info@baishengyuan.com.cn
Add: No.642-5# Qilu Avenue Weihai City Shandong China
Skype: WATERSURFACE0631
QQ: 917669496




Product name : Glue Spreader

Item : GS2700
Details:
01) This glue spreader machine with larger diameter rollers and good precision;Rubber roller diameter 430mm,glue squeeze roller dia.292mm,greatly increased roller rigidity; make glue application be uniform on working pieces. In addition,the upper rubber roller and bottom roller can exchange use; the upper and bottom squeeze roller can exchange use also, it's make machine maintenance becoming convenience.
02) Along with the whole sheet 4x8ft veneer entering glue spreader at horizontal direction, one rotation of roller will be spreading one piece veneer, compared to small diameter roller its an advantage,because small roller need rotation more than one cycle to finish a veneer sheet, not uniform be easier happen.
03) The connection of top rubber roller and top squeeze roller by articulated structure, easy lift&fall,adjustment labor save. Especially,separate operation for left and right lifting movements,this solves rubber roller wear inconsistent and need to adjust the amount of different requirements, so as to help the left and right gap consistent.
04) Adjust the amount of squeeze glue is also left and right separate operation, the same ,its can also be on demand for different adjustments, so that the amount of glue in the whole length to achieve uniform.
05) The upper glue block plate using insert type, this is not easy to leak glue, and easy to install, easy to clean
06) The lower glue bucket adopts tilting type, easy operation and labor saving, because there is no glue hole, and no leakage phenomenon, the glue bucket dumping to the inside direction , easy to operate &cleaning. 07) This machine adopts two-speed motor, according the process requirements choice speed feed (the entire core veneer at slow speed appropriate) ;maximum working speed up to 92 meters/min, greatly improve the productivity, slow speed of 50 (or 30) m/min, but also quicker than variety of other models .


4ft Glue Spreader GS1500
Rubber roller size Φ430 x 1500mm, 02 pc
Squeeze roller size Φ292 x 1500mm, 02 pc
Rubber roller character 20 teeth per inch,Groove "V" shape,angle 65°;Hardness (Shore)50-55;
Feeding veneer height 930mm
Motor power quicker /lower 5.5kw;(4kw)

Feeding veneer motor power 1.1kw
Veneer feeding speed 45m/min(in quick gear);35m/min(in low gear);
Rubber roller maximum opening size 55mm
Out feed disc type table size 720x1080mm
Electric component,Main Siemens,Schneider
Dimension size 3000x2580x1600mm
Weight 3820kg



8ft Glue Spreader MH62-Z
Rubber roller size Φ430 x 2700mm, 02 pc
Squeeze roller size Φ292 x 2700mm, 02 pc
Rubber roller character:20 teeth per inch,Groove "V" shape,angle 65°;Hardness (Shore)50-55;
Feeding veneer height 930mm
Motor power quicker /lower 5.5kw;4kw
Feeding veneer motor power 1.1kw
Veneer feeding speed 45m/min(in quick gear);35m/min(in low gear)
Rubber roller maximum opening size 55mm
Out feed disc type table size 720x1520mm
Electric component Main Siemens,Schneider;
Dimension size 4110x3700x1600mm