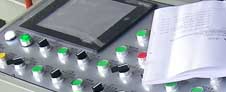 Name: BAISHENGYUAN
Tel: +86-136-2630-7530
Fax: +86-631-5921397
E-mail: info@baishengyuan.com.cn
Add: No.642-5# Qilu Avenue Weihai City Shandong China
Skype: WATERSURFACE0631
QQ: 917669496




Product name : Honing Stone

Item : STONE
Details:
First do you understand difference between sharpening and honing?
Sharpening is where you actually create the cutting edge,
honing is where you refine the sharpness (make it sharp).

Most of the time what you want is a honing, not sharpening.
Are you interest in some good stone for your knives blades?
Features:
Extra-Fine
Get reliable Maintenance service
Years of consistent capacity
Number of grit be many choice
Premium honing solution;
Nice sharpening quality you can find,
we carry professional stone and wheels,
which give you finest finishing result of knife blades honing.
Advantage:

Ability to customize;
Has items in stock;
Shorter lead time;
Own a factory;