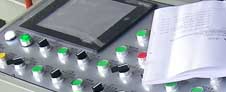 Name: BAISHENGYUAN
Tel: +86-136-2630-7530
Fax: +86-631-5921397
E-mail: info@baishengyuan.com.cn
Add: No.642-5# Qilu Avenue Weihai City Shandong China
Skype: WATERSURFACE0631
QQ: 917669496




Product name : Automatic Panel Edges Sizer Saw for Trimming

Item : ZHJ4*8A
Details:
Saw blade distance adjustable,be able to cutting panel board sizes 4x8ft,3x6ft;
Maximum cutting panel board edges speed 65m/min;
Maximum cutting panel thickness 35mm;
1st double edges cutting saw working size 915-1220mm
Motor power of 1st edge cutting saw 11kw
2nd double edges cutting saw working size 1830-2440mm
Motor power of 2nd edge cutting saw 11kw

There are panel board feeder as optional.

Cutting PLYWOOD,BLOCKBOARD,BARECORE,ETC.According panel board different thickness,the rollers of cutting saw up and down operation;
----There is panel sander line together optional.
----Panel board feeder adopt pneumatic system drive boards into cutting saw,hydraulic lifting table loading panel boards;
----After panel board four edges cutting/trimming,following by sander (single and double sides sander optional).
Finally,cutting and sanding boards stacked on hydraulic lifting tables.

Closer to ZHJ4*8A in video
https://www.facebook.com/photo.php?v=10200376836614033&l=3233138746525011236