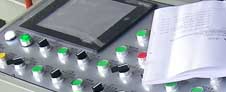 Name: BAISHENGYUAN
Tel: +86-136-2630-7530
Fax: +86-631-5921397
E-mail: info@baishengyuan.com.cn
Add: No.642-5# Qilu Avenue Weihai City Shandong China
Skype: WATERSURFACE0631
QQ: 917669496




Product name : Log Cross Cutting Line With Feeder

Item : MJS
Details:
Solution for receiving and match wood log handing system,by mechanized unloading, providing automated step feeding,
cross cutting.
The CROSS CUTTLING LINE of Shandong Baishengyuan company consist of
Log horizontal conveyor,step feeder
,
the feeder is intended to receive logs of various diameters and lengths by unloading trucks, cranes or by hand,
Log feeders for singulating and feeding stems and logs to merchandisers, debarkers, canters, stranders, etc.
The Step Feeder from Shandong Baishengyuan is built with a high resistance profiles and provided with chains
to the receiving, damping and drag the logs.
The drive by gears with optional variable speed enables continuous feed.