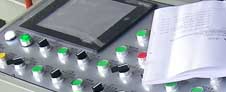 Name: BAISHENGYUAN
Tel: +86-136-2630-7530
Fax: +86-631-5921397
E-mail: info@baishengyuan.com.cn
Add: No.642-5# Qilu Avenue Weihai City Shandong China
Skype: WATERSURFACE0631
QQ: 917669496




Product name : Straight Knife Blade Sharpener

Item : YM3000B
Details:
Heavy Duty Straight Knife Blade Grinding Machine,KNIVES BLAES SHARPENER.
Characters&Specification
~~~~Grinding wheel automatic feed
~~~~Grinding head forward feed accuracy amount 0.01-0.03mm
~~~~Transmission with worm gear and rack drive
~~~~Grinding head motor power 22kw,rotation speed 0-960rpm
~~~~Adjustable axial clearance, smooth transmission,grinding accuracy.
~~~~Grinding head reciprocating movement,use PLC accuracy servo control system.
~~~~Memory available, stored procedures, dynamic tracking, and its accurate positioning,fast, precision.
~~~~Horizontal move speed 0-30m/min (left-right side reciprocating),grinding head rotation speed 0-960rpm
~~~~Gantry body is made of quality steel welding,under tempering, eliminate stress process,make it strength, rigidity, durability.
~~~~Electromagnetic sucker working table to load&fix knife blade or else working piece; sucker working table be able to rotation under worm gear transmission.
~~~~Turn flexible ,with good transmission ratio guarantee smooth transmission,silent.
~~~~With self-locking function play a security role.
~~~~Working table rotation angle 0~±90°
~~~~The following excerpts of major features and configuration as choice equip.
Imported linear guide rail,ball screw.Touch screen control system;Centralized lubrication device;Automatic collecting device for self-clean

Models

MYM20F

YM25F

YM30F

YM35F

YM40F

YM45F

YM50F

YM55F

YM60F

YM65F

Grinding work length/m

2

2.5

3

3.5

4

4.5

5

5.5

6

6.5

Grinding head rotation speed

0-960rpm

Electromagnetic sucker size/m

0.3*2

0.3*2.5

0.3*3

0.3*3.5

0.3*4

0.3*4.5

0.3*5

0.3*5.5

0.3*6

0.3*6.5

Grinding head motor power

22kw/30hp

Grinding head speed

0-30m/min

Grinding head reciprocating move motor power

3kw/4hp

Grinding wheel size/mm

φ300*110

Dimension size/m

4x1.3x1.6

4.5×1.3×1.6

5×1.3×1.6

5.5×1.3×1.6

6×1.3×1.6

6.5×1.3×1.6

7×1.3×1.6

7.5×1.3×1.6

8×1.3×1.6

8.5×1.3×1.6

Weight/ton

9.4

10.9

12

13

14.1

15.3

16.6

18

19.6

21.4

Grinding angle adjust

+-45°
Working video of machine
https://www.facebook.com/photo.php?v=10200673890640198&l=6738500856722799464