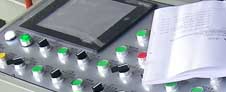 Name: BAISHENGYUAN
Tel: +86-136-2630-7530
Fax: +86-631-5921397
E-mail: info@baishengyuan.com.cn
Add: No.642-5# Qilu Avenue Weihai City Shandong China
Skype: WATERSURFACE0631
QQ: 917669496




Product name : 4ft CNC Spindle Rotary Lathe BQK1215/8A1

Item : BQK1215/8A1
Details:
CNC Single Spindle Rotary Lathe BQK1215/8A1

Working log diameter 170-800mm
Working log length 1000-1500mm
Veneer peeling thickness 0.3-4.2mm
Chuck diameter 100mm (130 optional)
Knife carriage move speed 1.8m/min
Main motor power 45kw
Hydraulic station motor power 7.5kw
Dimension size 7.3x1.77x1.9m
Net weight 12.5ton
----Equip CNC System,have Beike CNC system and Mitsubishi CNC system optional.
----Main motor have DC motor and AC motor optional
---Peeling different veneer thickness WITH GEAR OR without changing gear available;
---Cast iron structure of machine main body.
--- Not equip CNC system available,the modle BQ1215/8A1 also popular be used.

Europle CE Certification Aviailable.