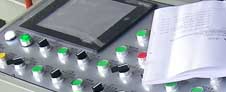 Name: BAISHENGYUAN
Tel: +86-136-2630-7530
Fax: +86-631-5921397
E-mail: info@baishengyuan.com.cn
Add: No.642-5# Qilu Avenue Weihai City Shandong China
Skype: WATERSURFACE0631
QQ: 917669496




Product name : Stay Log Lathe

Item : BQ1235/15
Details:
Rift
slicing
use "stay log lathe" cuts with a rotary action. Achieves a straight grain pattern, flitch be cutting for decoration veneer.
Accoring working length ours Stay Log Lathe we build BQ1235/15 and BQK1242/15:
Stay Log Lathe BQ1235/15 Main parameters:
MAX CUTTING LENGTH 2400-3500MM;
VENEER THICKNESS 0.35-3.9MM;
SPINDLE ROTATION SPEED 0-100RPM
Main drive motor 75kw;
Hydraulic station motor power 7.5kw (10hp);
TOTAL MOTOR POWER 91KW
NET WEIGHT 36TON.
We also manufacture the grooving machines which quickly prepare the staylog flitches,and then fix it on our Stay log Lathe.
There is another way of stay log lathe,


Because of texture of oak wood,another reason some people buy rift slicer is to process oak veneer,avoid "white wave"
,when slice white oak timber blocks,the top part without white wave
(white waves are coming because of texture of oak logs not all of them having this problem but depending of the winter conditions on growing years it happen on some logs.)
Through change cutting direction of the wood eliminate the waves on veneer surface.